Ai ProTube
Made in USA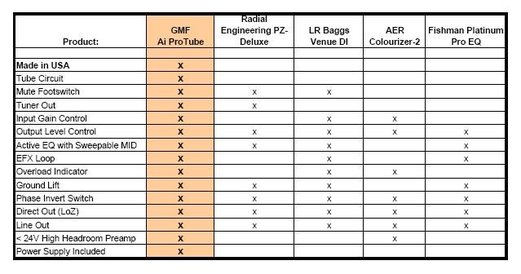 Remember the soft blue glow from an old vacuum tube amp and their nice warm tone?
You can have it again at the fraction of the cost of a tube amp. GMF Music is introducing an innovative, great sounding "analog" Pre-Amp/DI, the Ai ProTube. Geared towards the acoustic instrument market the Ai ProTube has a real "tube" that will make any acoustic instrument sound warm and inviting with no unwanted signal compression. This isn't just a tube simulation circuit; it is the real thing with a 12AX7 tube circuit.
Why a Tube?
Acoustic musicians pay thousands of dollars for a well-crafted and great sounding acoustic instrument. Most of this great tone is lost once the instrument is amplified because of the compression that is applied to the signal with today's digital amplifying and recording equipment.
The GMF Ai ProTube is an acoustic preamplifier, direct box, and all around solution for connecting your acoustic instrument into a sound source. If you don't have a built-in pickup on your guitar or other acoustic instrument, no problem we will include a handcrafted transducer pickup to your order.
The
Ai ProTube
can be used as:
A pre-amp for your acoustic instrument with your built in pick up or external pickup
A DI box to connect to a PA system
An alternative to a large amp for travel dates when you just can't pack your whole system. The Ai ProTube is easily connected to any PA or sound system via the Line Out or XLR direct out connections. (Basically a high quality acoustic amp without the power amp or speakers)
If you want to add your favorite effects, we have you covered with an effects send and return loop.
This Chart compares the Ai ProTube with some of the popular units currently on the market. As you can see there are two things that stand out. "
None"
of the competition is
MADE IN USA
and none of them includes a Tube Circuit. We feel that by manufacturing these in the US, we have much better control of the quality and by using a tube in our preamp, it makes any acoustic instrument sound warm and inviting with no unwanted signal compression. With our expertise in design and manufacturing, we are able to produce the Ai Protube at a cost that is very competitive with the competition.
​
---